BIOGRAPHY
Lash78  combines  the  vocal  talents  of  sisters  Lauren  and  Sheridan  Harvey.  Inspired  by  a  wide  range  of  artists  and  genres,  their  live  shows attract  people of  all  ages.  Their  sound  is  guitar  driven,  organic  rock-pop,  with  edgy  elements.  Lash78  always  provides a  captivating,  fun  and energetic  atmosphere  and  are becoming  well  known  for  their  knockout  harmonies  and  a  performance  that  keeps  audiences  coming  back  for more. 
During their early careers while still 'gigging' the girls also experienced individual success, in late 2008 Lauren joined the cast of 'Billy Elliott the Musical' taking on the role of 'Debbie' for the shows Melbourne run.
At the same time, Sheridan kept busy writing and performing, she was selected as a finalist for the Australian Busking Championships in Brisbane and was invited by Stephen K Amos to perform as part of his performance at the 2009 Melbourne International Comedy Festival, which resulted in the opportunity to perform as a guest artist on an episode of Spicks and Specks on the ABC. There Sheridan met Dave Hughes who invited her to sing live on Nova 100fm on the 'Hughesy and Kate' show. Sheridan also made her feature film debut in 2009 with the release of 'Dying Breed' in Australia and around the world sharing the screen with fellow Australians Leigh Whannel (SAW), Nathan Phillips (WOLF CREEK) and Mirrah Foulkes (All Saints)
Having supported  some  of  Australia's finest musicians including Shannon Noll,  Kingswood, Stone  field,  Palace  of  the  King  and  Taylor  Henderson;  the girls  take  to  the  stage  like  it's  their  home  having  performed  in  front  of  thousands  of  music  lovers,  gaining  a  loyal  fan  base and  building  a  solid  platform  for  the  success  of  their  brand.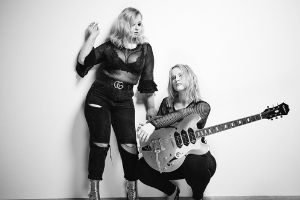 Over  the  past  2 years,  Lauren  and  Sheridan  have  travelled  extensively,  collaborating  with  songwriters  in  Europe,  The  United  States  and  back in  their  home  city  of  Melbourne  culminating  in  some  amazing  tracks  that  needed  to  be  heard,  So  they  hit  the  studio  to  work  with  multi-award  winning  producer  Matt  Fell, to  record  their  debut  EP which  is currently  in  the  hands of  respected European  mixing/mastering engineer Rob  Rox  (Imagine Dragons, Banks, Ellie Goulding, Tove Lo).  With  the  release  of  their  EP  planned  for  the  immediate future,  the  girls  will  begin  to ramp  up  the  live  scene  and  take  the  EP  on  the road